Megelin Skincare Beauty Renewal Anti-aging Wand
Regular price

$199.00

Sale price

$129.00
4-In-1 Proven Technologies


Smooth Wrinkles


Fade Blemishes

Prevent Acne and Breakouts

Boost Serum Absorption

Customized Beauty Gel and Masks
Benefits

The Skincare wand is backed by 4 advanced technologies, including dual colour light therapy, facial massage, heating and microcurrent.

Smooth Wrinkles and Finelines
Remove Acne and Prevent Breakouts
Brighten the skin
Alleviate Puff and Dark Circles
Specifications

Functions

630nm Red Light for Skin Rejuvenation

465nm Blue Light for Acne Remove

In the Box

Megelin LED Light Therapy Wand*1

User Manual*1

USB Cable*1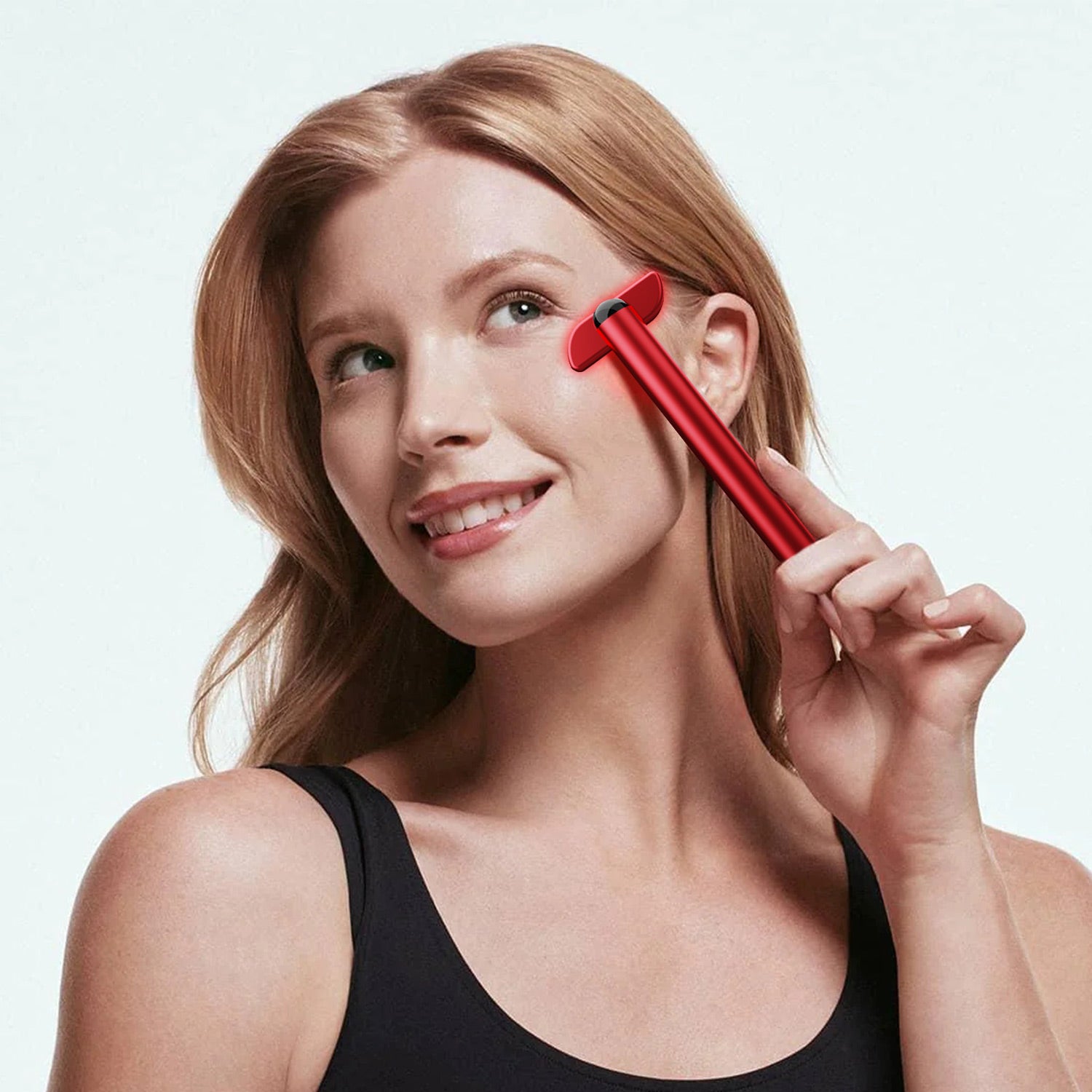 2 Weeks Body Test Results
4 Proven Beauty Technologies
Experience a spa-quality facial in the comfort of your own home or wherever you are. This wand incorporates Red Blue Light Therapy, Microcurrent, Facial Massage, and Therapeutic Heating to help you achieve radiant, youthful skin within weeks.
Therapeutic Light for Acne and Anti-Aging
The device utilizes 630nm red light and 473nm blue light. By rotating the device head 90°, you can easily switch between the red/blue light therapy mode.
Red light assists in reducing wrinkles and brightening the skin tone, while blue light combats bacteria, alleviates inflammation, and eliminates acne.
Small But Mighty
The synergy of Microcurrent and Facial Massage results in firmer and more youthful-looking skin.
Microcurrent delivers low-energy currents to the skin, reactivating facial muscles and making the skin tighter. The high-frequency vibrations of facial massage ensure relaxation both inside and outside the skin, particularly reducing facial puffiness and diminishing dark circles under the eyes.
Skincare from the Inside Out
Paired with MEGELIN's specialized Skin Rejuvenation Gel or mask, the therapeutic warmth from the wand enhances the penetration of the essence into the deeper layers of the skin, ensuring thorough hydration and revitalizing the skin's barrier.
A simple 10-minute daily routine provides moisture and nourishment to the skin from both inside and out, ultimately unveiling a radiant complexion.
Compact and Wireless Design
The device weighs only 40g and its compact size makes it easy to fit into a backpack. This allows you to enjoy skincare pleasure anytime, whether at home or on the go.
FAQs
How quickly should I expect to see results?

The Wand provides numerous cosmetic benefits that become increasingly noticeable over time. In the initial weeks, users typically observe plumper, smoother skin, reduced under-eye circles, and a radiant complexion. After consistent use for a few weeks, wrinkles and fine lines tend to diminish.
What does the beauty set include?

The beauty set includes a wand, MEGELIN gel, and a mask. MEGELIN's specialized gel and mask provide better skin tightening effects.
Where can I use the Wand on my face?

The Wand can be used on your entire face, including the forehead, eyebrows, cheeks, upper lip, under eyes, and chin. You can also focus on specific areas for concentrated treatment. To target neck lines, simply glide the Wand upward on your neck while avoiding the throat area.
Is it safe to use?

Absolutely. Red Light Therapy was initially researched by NASA for exposing astronauts to beneficial light spectrums in space. Since then, extensive research has shown that Red Light Therapy is safe for people of all ages, skin types, and tones, with significant skincare benefits.
How long does the LED device last on a single charge? How long does it take to fully charge?

With a full charge, it can run continuously for 1-2 hours. It takes 3 hours to charge once.