Megelin LED Light Therapy Face Mask
Regular price

$399.00

Sale price

$199.00
Reduces fine lines and wrinkles

Reduces the appearance of pigmentation and redness

Reduces active acne, blemishes and inflammation

Promotes healthier, younger-looking skin

7 colors light therapy

FDA Approved
Benefits

Red LED light penetrates deep within skin's dermis to boost collagen production and smooth fine lines & wrinkles. 97% showed an overall improvement in fine lines, wrinkles, and skin tone after 10 weeks.

Firms skin & increases skin density

Red LED light penetrates into skin to support natural collagen and visibly firms skin.

Blue LED light destroys acne-causing bacteria to help clear mild to moderate acne. Red LED light helps even skin tone & texture to prevent flare-ups. 97% showed overall improvement in acne after 2 weeks.

Treats signs of sun damage

Red/Yellow LED light works to reduce sun spots, age spots, and discoloration.

Red Light(630nm): anti-aging, relieving dark circles; Blue light(460nm): Calms and Tightens Skin;Yellow light(590nm): lighten spots and whiten skin, brighten skin color; Green light (550nm): balance pigment, Reduces Redness; Purple Light (420nm): Relaxing, Improve Dull Skin; Cyan Light(490nm):Boost cell metabolism; Infra Light(850nm): Accelerating skin blood circulation.
Specifications

Functions

460nm (blue light), 590nm (yellow light), 630nm(red light), 849nm(infrared light), 550nm(green light), 420nm(purple light), 490nm(cyan light)

In the Box

Megelin LED Face Mask*1

Megelin LED Neck Mask*1

Eye Patch*2

Fixing Band*2

Remote Control*1

Storage Bag*1

Charging Cable*1

User Manual*1

Number Of Leds

Face Mask 110 Leds, Neck 110 Leds

Product size

Mask 31*19.7cm/12.2*7.8in

Neck 34*23cm/13.4*9.1in
4 Weeks Body Test Results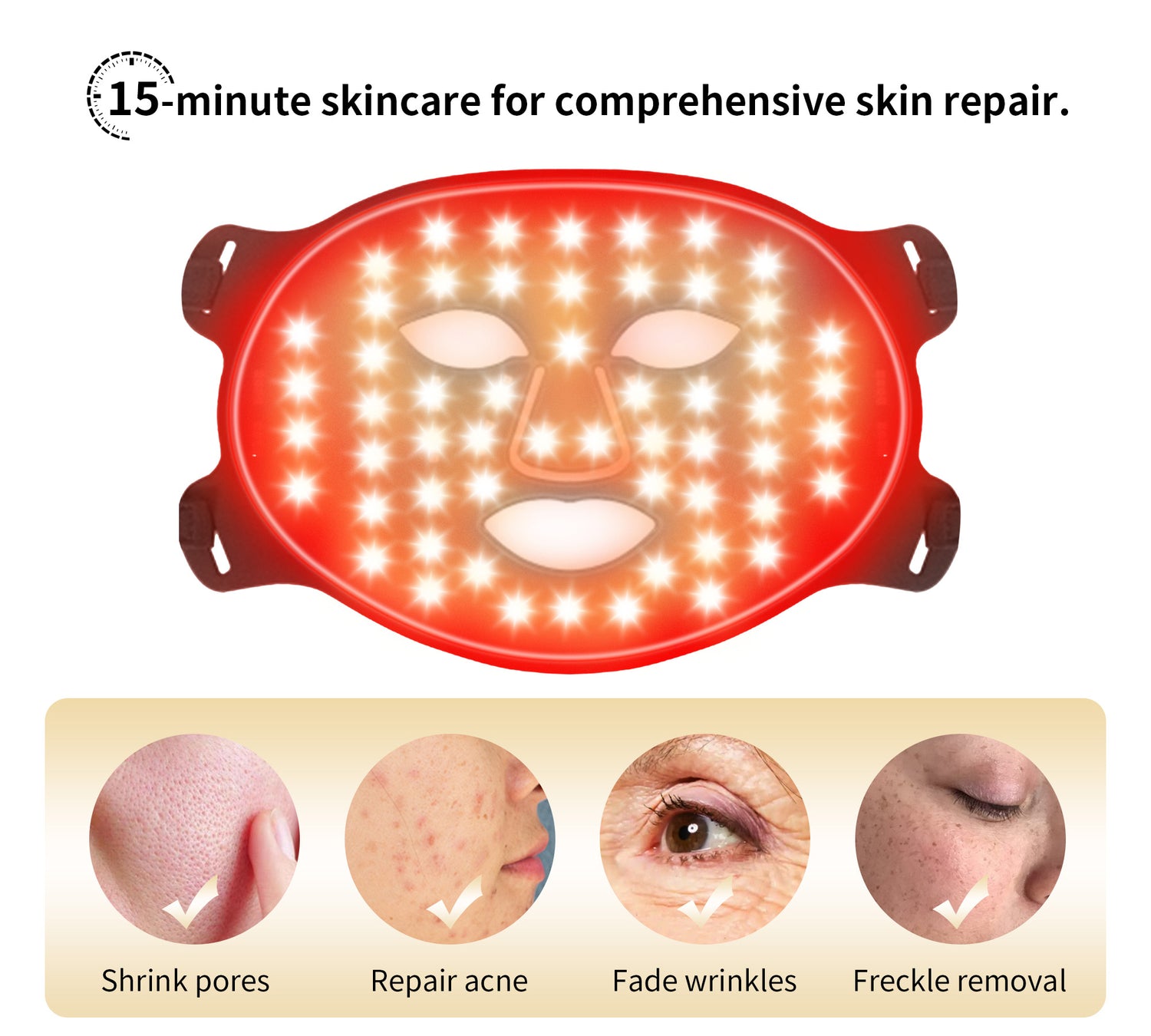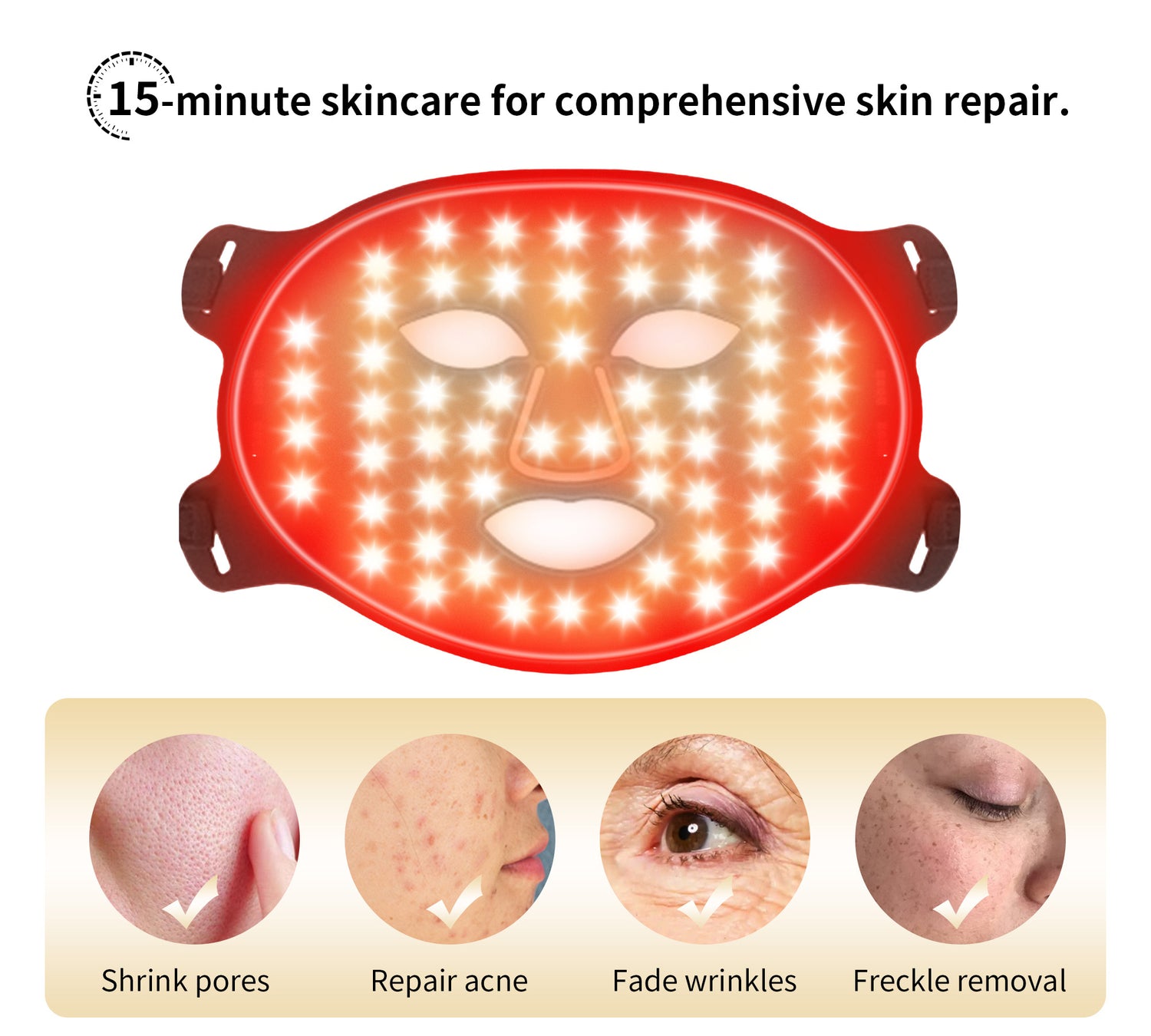 Comprehensive Skin Repair in 15 Minutes
240 LED light beads, upgraded energy, fully covering every inch of the skin, deeply repairing the skin without missing any areas, three adjustable intensity levels to meet different skin needs.
More Functional Face Light Therapy
LED light therapy repairs and improves skin from within, combating acne, shrinking pores, brightening, removing spots, reducing wrinkles, stimulating collagen, and restoring a youthful complexion.
3D Facial and Neck Care
Now you can use medical-grade light energy tech, used by doctors to reverse the signs of aging on your face, neck and décolletage. The Megelin LED Neck is a soft silicone LED mask that turns back the clock on your neck and chest.
Non-Invasive & Hands-Free
No damaging UV rays and the mask is non-invasive. Safe to use in the comfort of your own home with zero down time.

Lightweight, Skin-hugging Design
Made of soft, food-grade silicone, non-irritating, with no blind spots, adaptable to various face shapes, foldable for convenient portability, ultra-lightweight, and comfortable to wear without any strain.
Waterproof and Easy to Clean
After use, it can be easily wiped clean with a damp cloth or rinsed, thanks to its excellent sealing, making cleaning a breeze.
FAQs
How does it work?

Through optimized medical-grade energy output and the action of seven clinically proven light wavelengths (red, near-infrared, blue, green, purple, cyan, yellow) at the cellular level, it stimulates the production of new collagen, reduces fine lines and wrinkles, fades acne scars, eliminates skin pigment deposits, and reduces the visible signs of sun damage and skin aging.
What are the benefits of different light wavelengths?

Red Light: Promotes collagen regeneration, reduces wrinkles, enhances skin elasticity and firmness.
Near-Infrared Light: Improves blood circulation, repairs skin wounds, reduces inflammation, and alleviates pain.
Blue Light: Fights acne bacteria, eliminates acne, eczema, rosacea, and soothes skin inflammation.
Green Light: Reduces skin pigment deposits, fades sunspots, and diminishes scars.
Yellow Light: Repairs skin, reduces redness, and alleviates skin irritation.
Purple Light: Minimizes pores and promotes skin tightening.
Cyan Light: Reduces sebum secretion.
Why is the mask not starting? Does the mask need to be plugged in?

To activate the mask, connect it to the controller. Please avoid connecting the controller to a charging cable(Type-c) while using the mask, as a safety feature prevents its operation during charging.
How often should the LED mask be used?

It is recommended that this product be used 3-4 times a week, and a
single use time is 10-20 minutes, blue light usage should not exceed ten minutes in a single session.
Are there any side effects?

It has no adverse effects on the skin.
How do I charge my battery? How long should I charge it?

The battery has a capacity of 3000mAh and can be fully charged in 2 hours, providing a usage time of 4 hours.
Should I use the device in the morning or at night?

Megelin devices have benefits for both AM and PM users. Early Birds, wake up those skin cells, and start your day with an instant glow that lasts all day. Night Owls, ease your skin into its regenerative process and calm your skin for your best sleep. Consistency is key, so find what works best with your routine!
Contraindications

DO NOT use the Megelin LED system to treat any other conditions apart from those listed in the indications for use. The Megelin LED system has not been tested for any other conditions than those listed and the risk is unknown.

DO NOT use the Megelin LED system if you are pregnant, planning on becoming pregnant or breastfeeding. The Megelin LED system has NOT been tested on pregnant or breast-feeding women and therefore the risk to the fetus, neonate or pregnant women is unknown.

DO NOT use the Megelin LED system if you suffer from photosensitive eczema or albinism. If you use the Megelin LED system to treat photosensitive eczema or albinism you may cause a severe skin reaction.

DO NOT use the Megelin LED system if you suffer from any photosensitive disorder (sensitization to light). If you use the Megelin LED system and you suffer from a photosensitive disorder you may cause a severe skin reaction.

DO NOT use the Megelin LED system if you are taking any medication that can cause photosensitivity. If you use the Megelin LED system and you are taking any medication that can causes photosensitivity you may cause a severe skin reaction.

DO NOT use the Megelin LED system if you suffer from light induced headaches.

DO NOT use the Megelin LED system if you suffer from any genetic conditions of the eye. Photosensitivity is a common side effect of various medications. These can include certain antibiotics, chemotherapy drugs, and diuretics. If you are unsure about any medication you may be taking consult your healthcare provider.