Megelin M1 Sapphire IPL Hair Removal Handset
Regular price

$429.00

Sale price

$259.00
Quick Results in Just 3 Weeks

Sapphire Ice-Cooling Technology. Pain-free

High Power for Stubborn Hair

Quick 7-Min Treatments

FDA-Approved (Safe & Effective)

Combination of Hair Removal and Skin Care
Safe and Comfortable

Our IPL hair removal device features cutting-edge sapphire cooling technology that can lower the temperature of the output window to 41°F. Extra-large ice contact area made from full-screen ultra-thin sapphire, it delivers a truly safe and painless hair removal experience.
Specifications

Functions

Intense Pulsed Light (IPL),590-1200nm

In the Box

MEGELIN M1 IPL Handset*1

Goggles*1

Razor*1

Plug*1

User Manual*1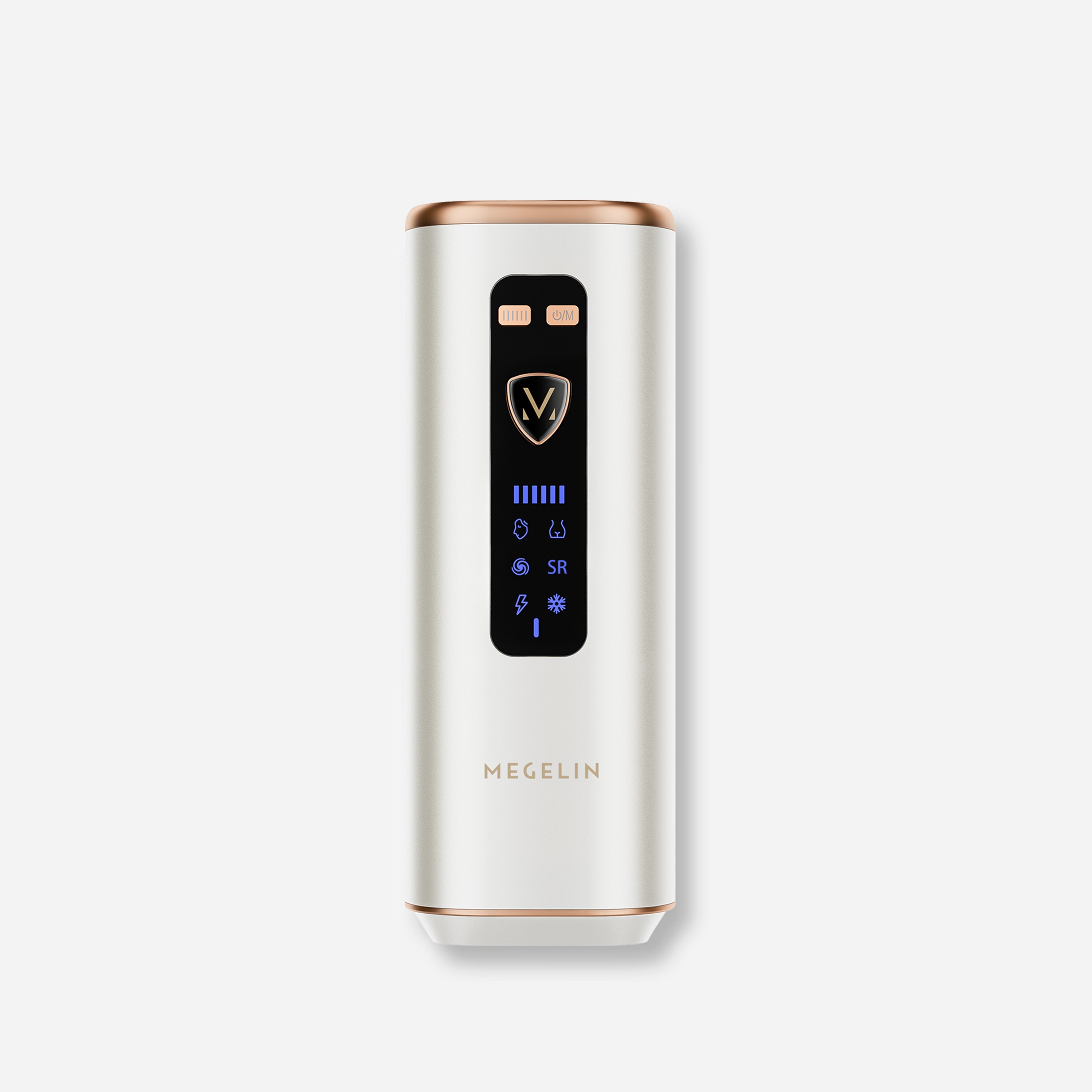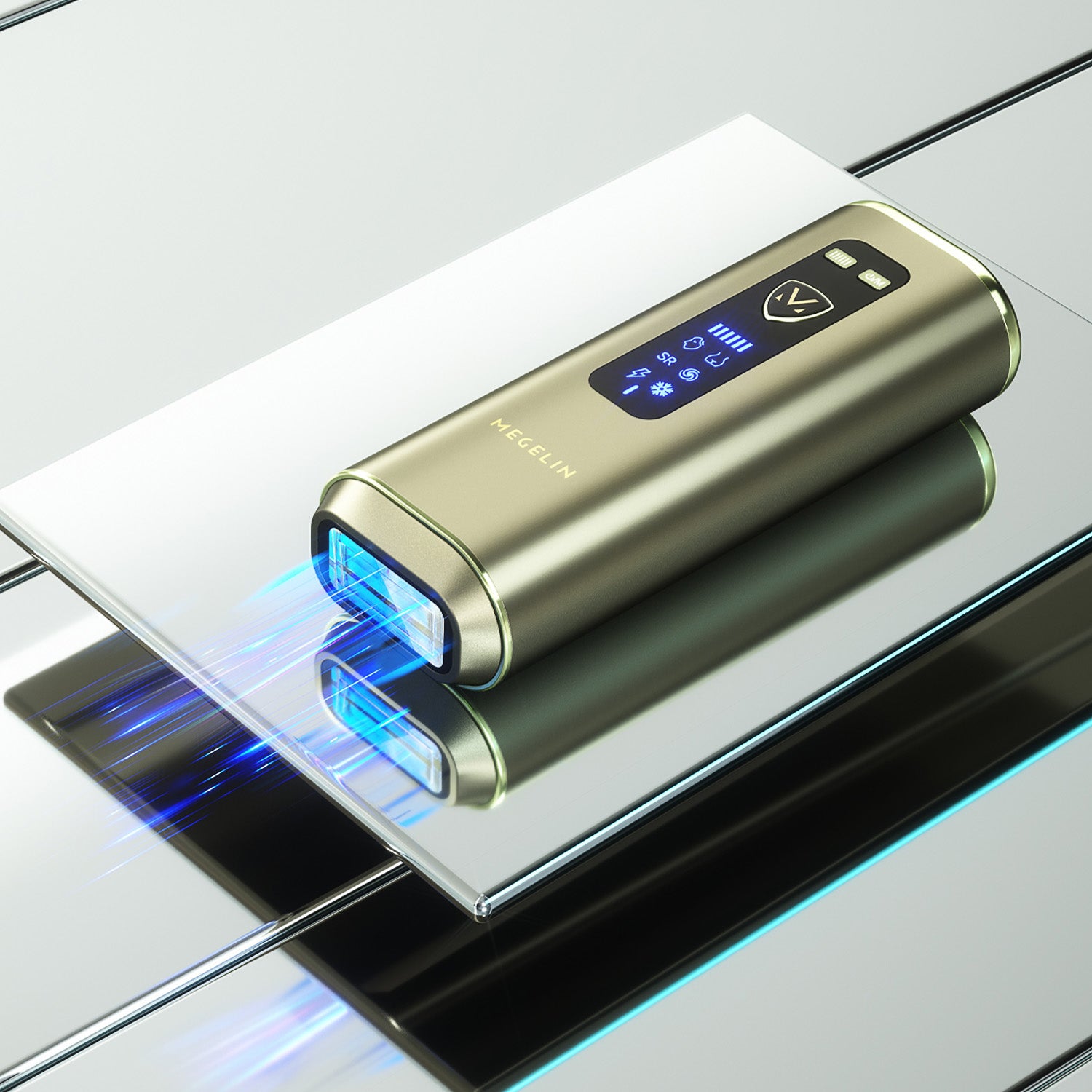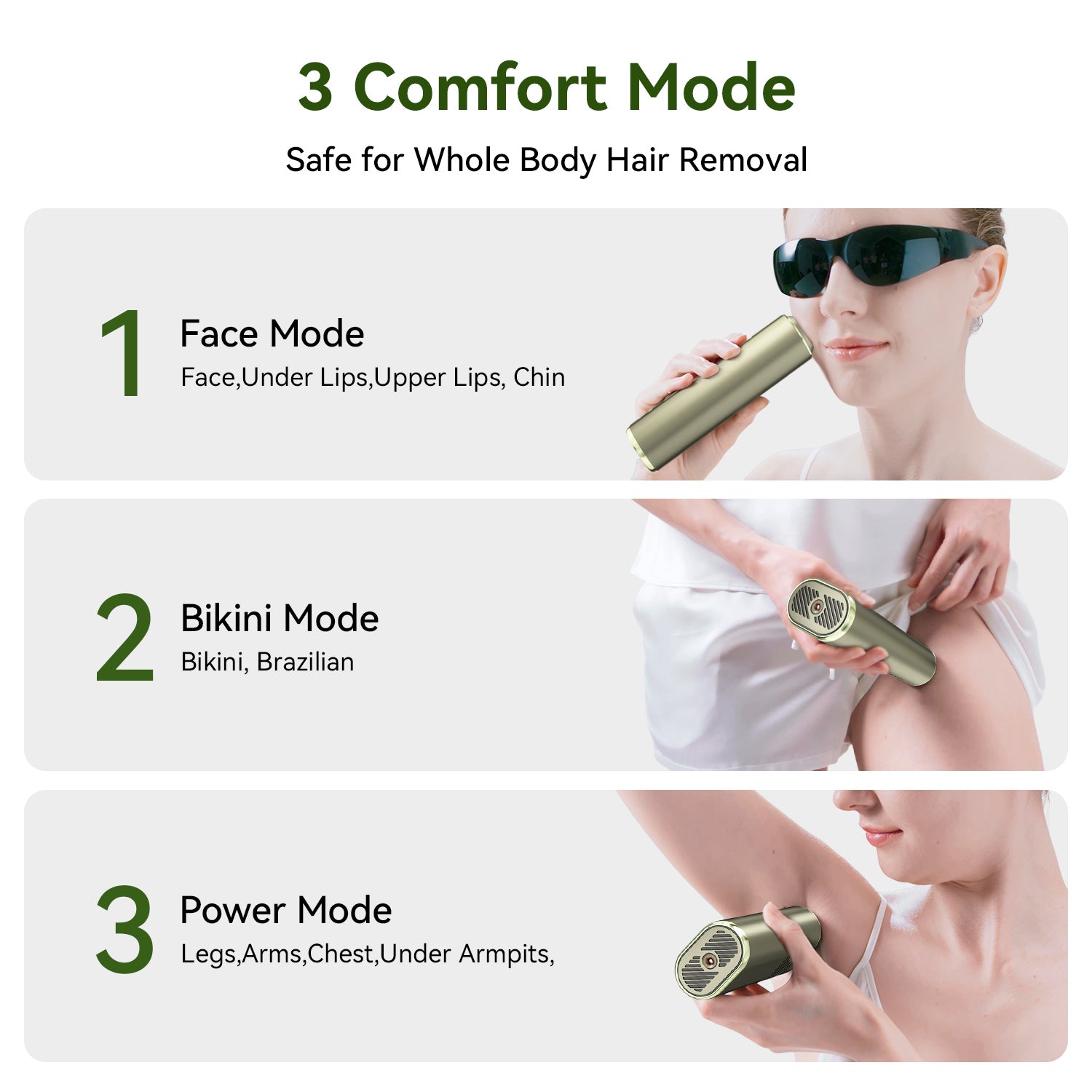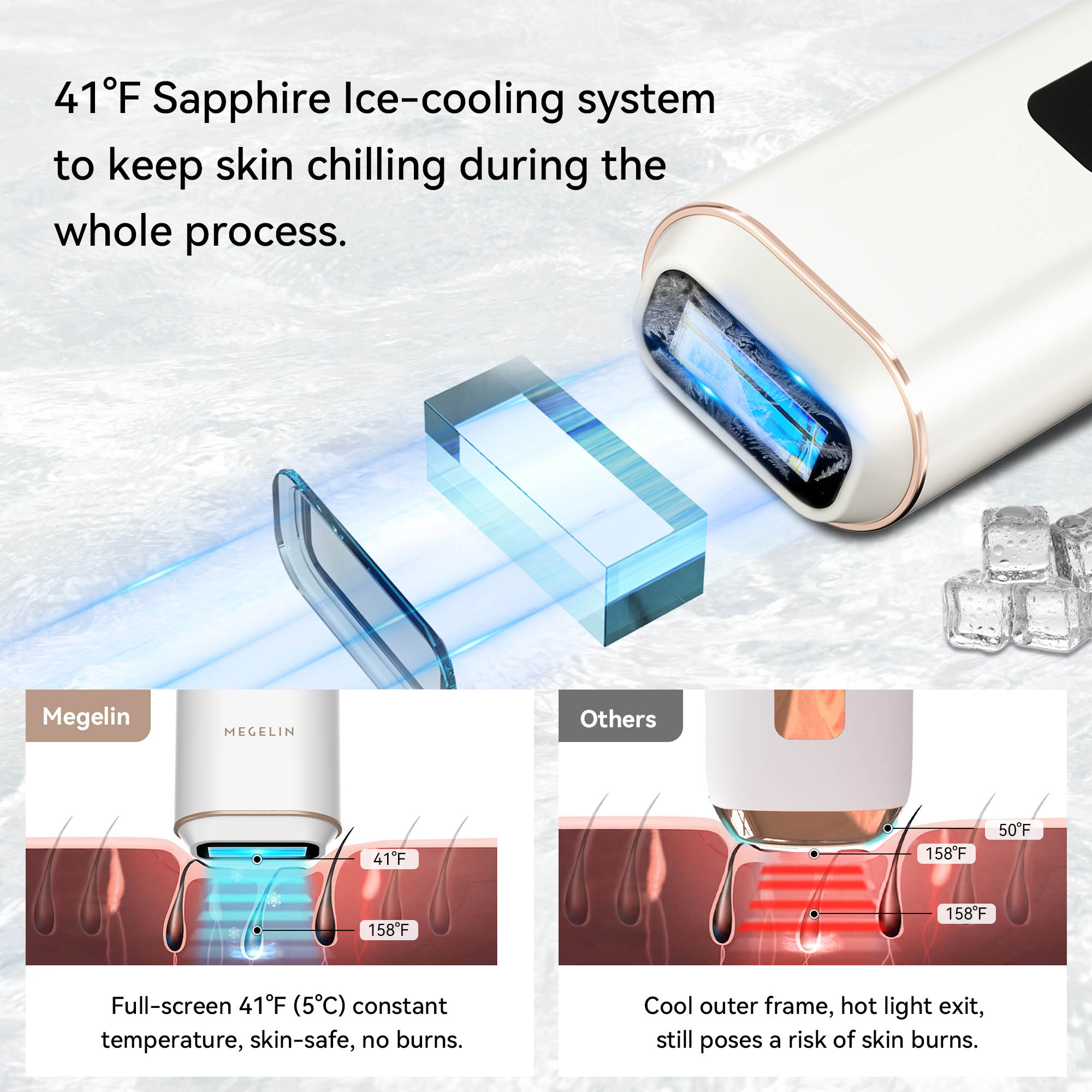 3 Weeks Body Test Results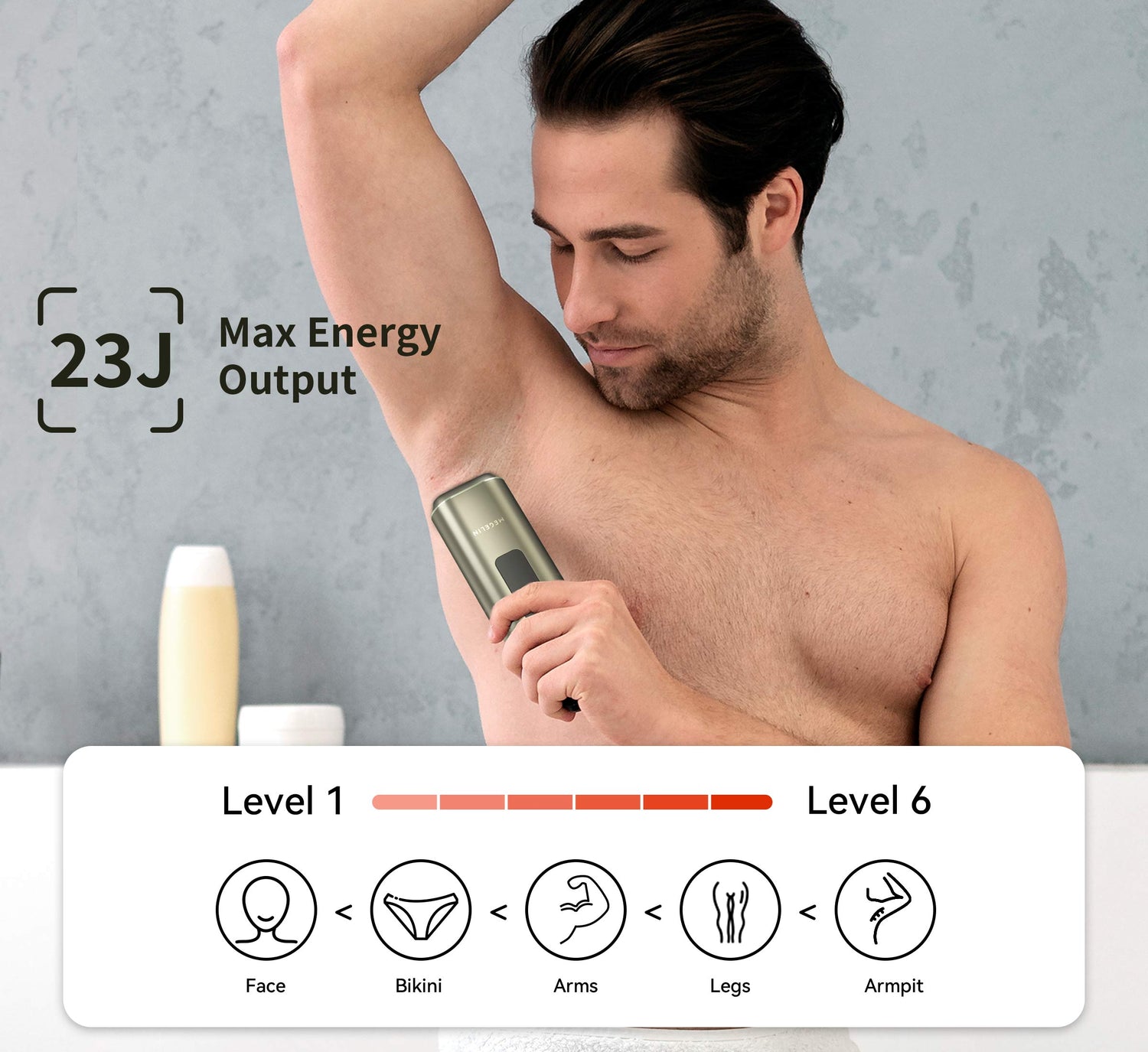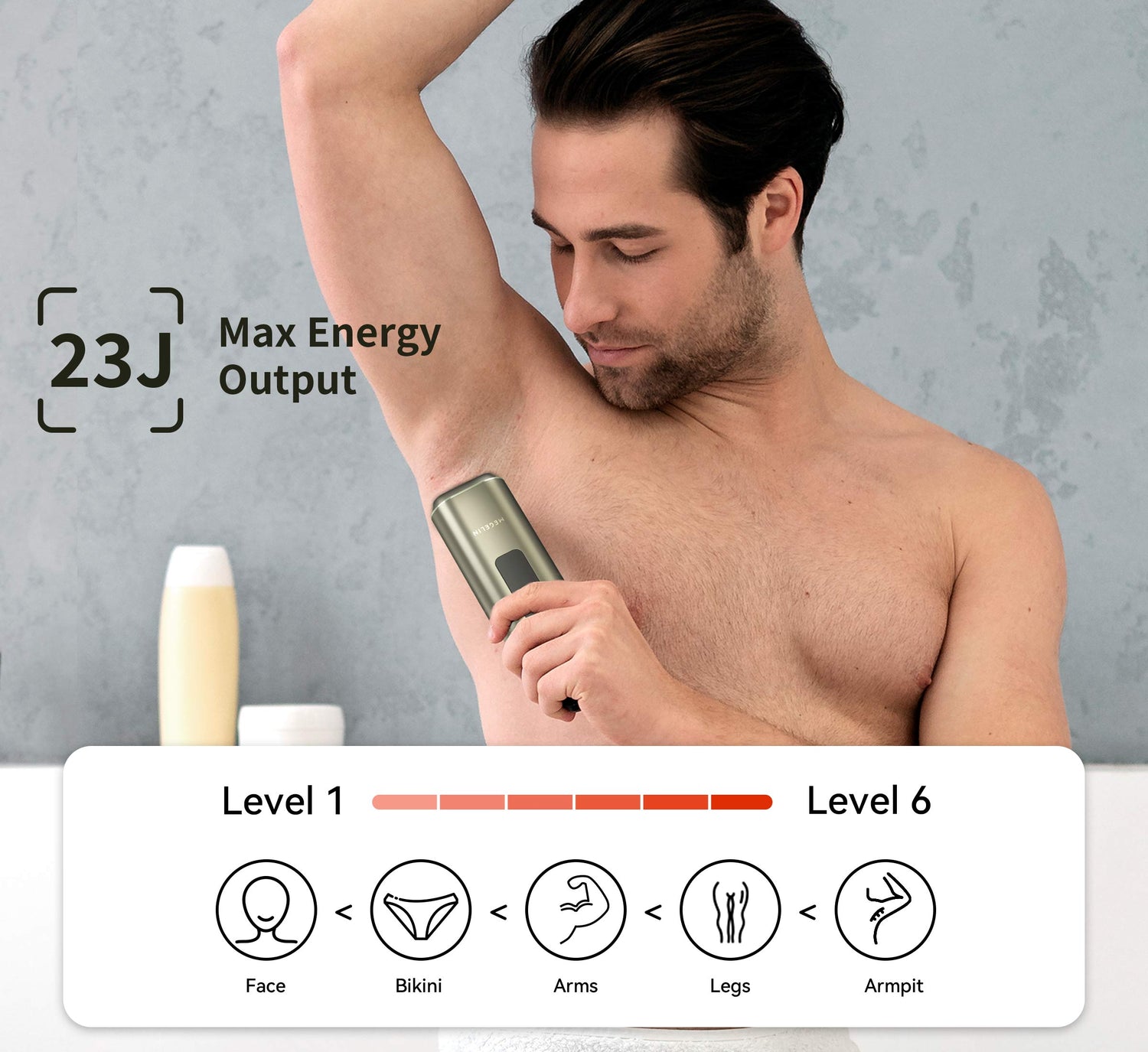 Customized High-Power Mode For Dense and Fast-growing Hair
Delivering a powerful 23J energy level, it ensures precise targeting and efficient removal of hair follicles at the roots, resulting in effective and long-lasting hair removal in just 3 weeks.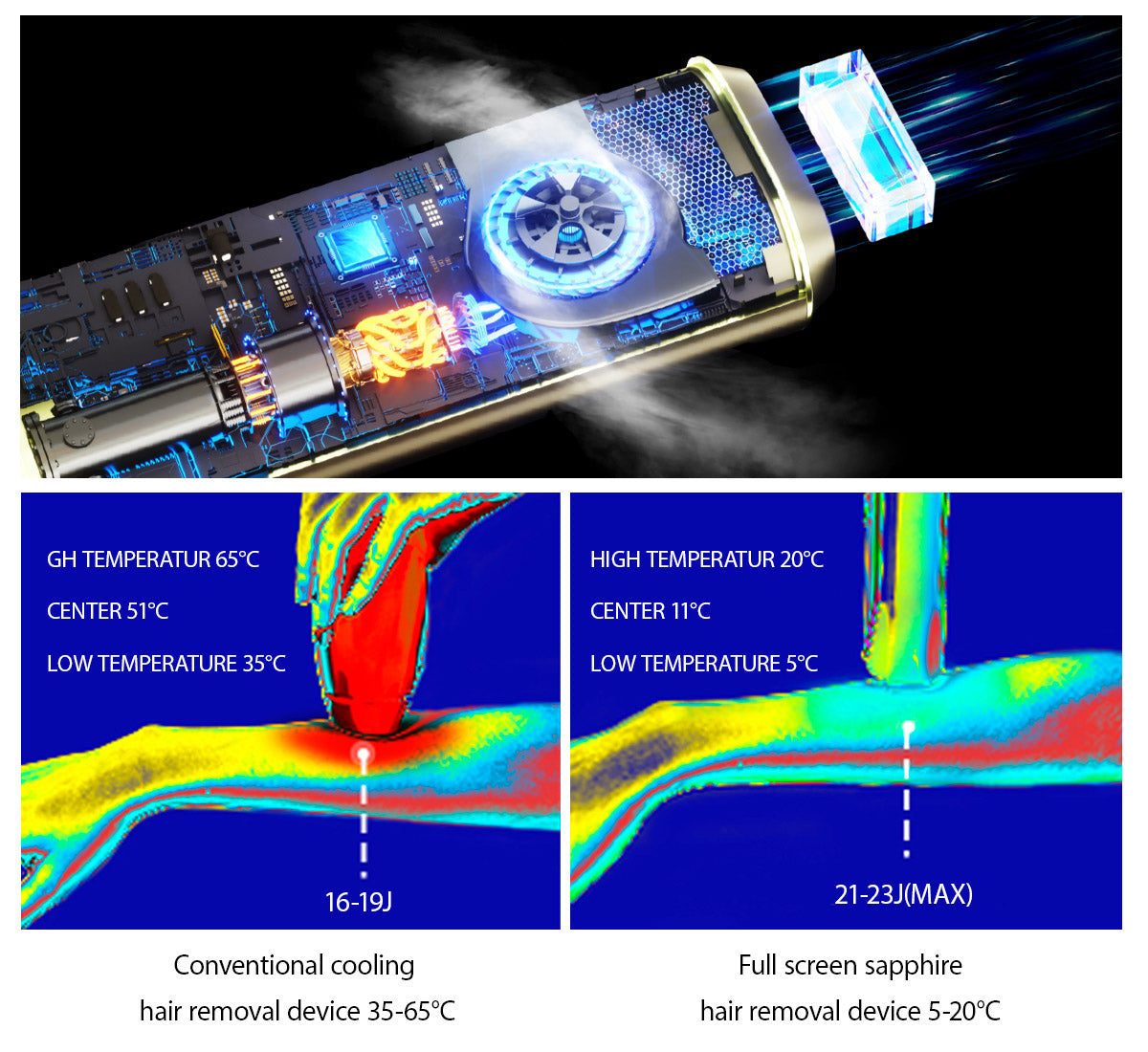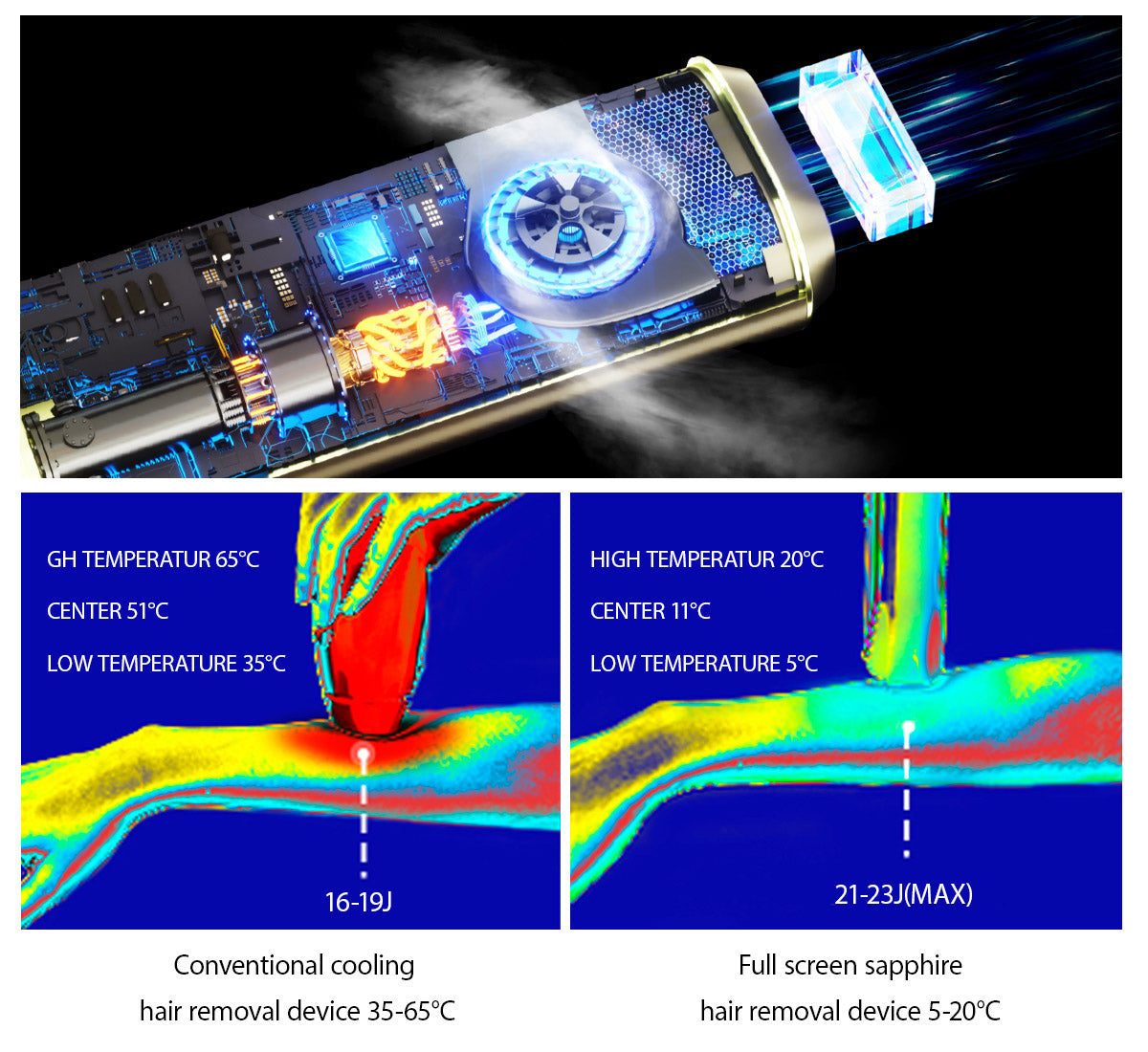 Sapphire Ice-Cooling Pain-Free Technology
Sapphire cooling and advanced heat dissipation technology keep the output window temperature at 41°F (5°C), ensuring pain-free hair removal. With a cooling area(7.4cm²) twice as large as other devices, it eliminates burning sensation and offers a refreshing experience.
Free Your Thumb, For Swift Hair Removal
End the hassle of continuous button pressing, auto glide mode can deliver flashes in every 0.7 seconds. Get a quick full-body hair removal session in as little as 7 minutes.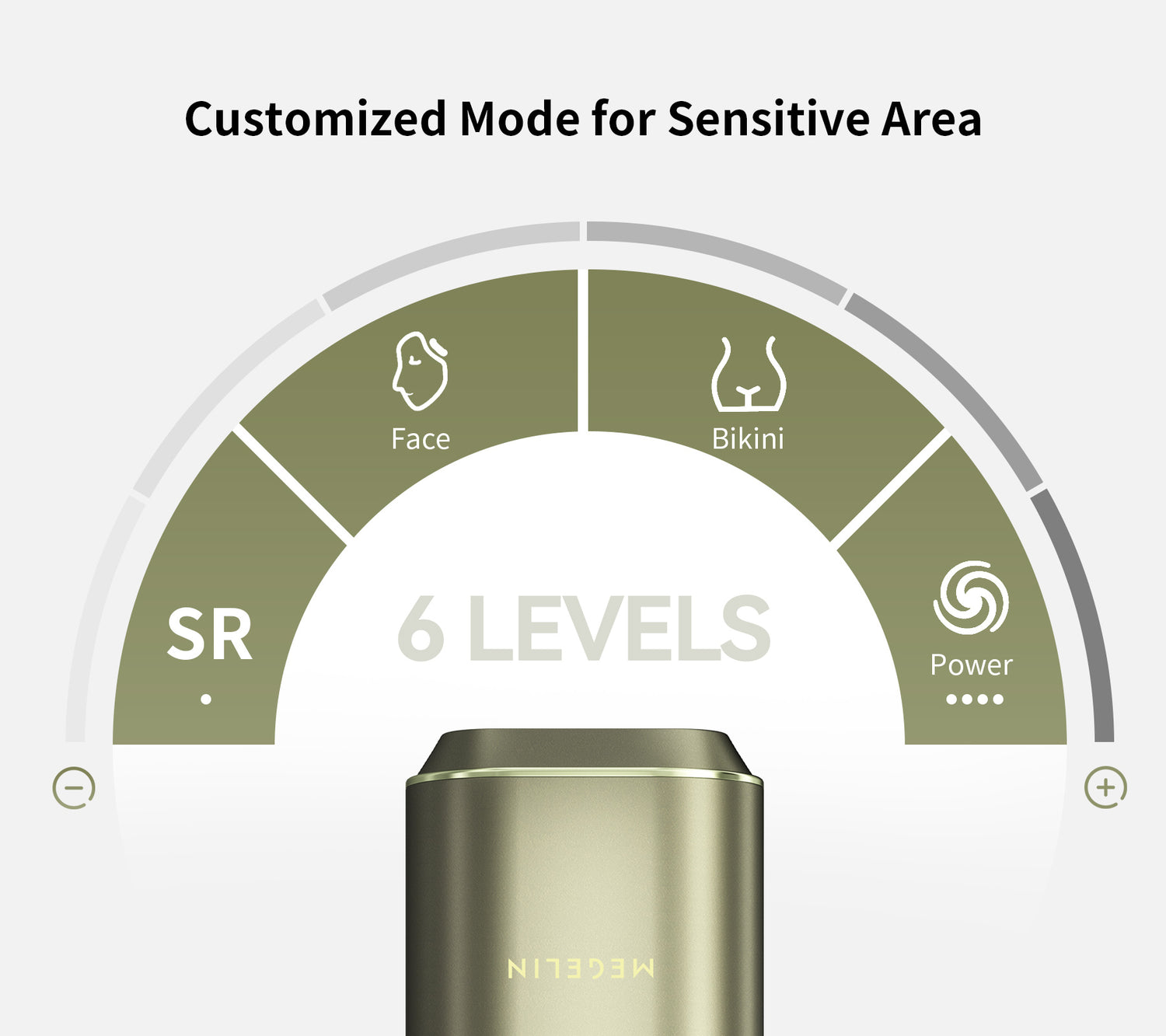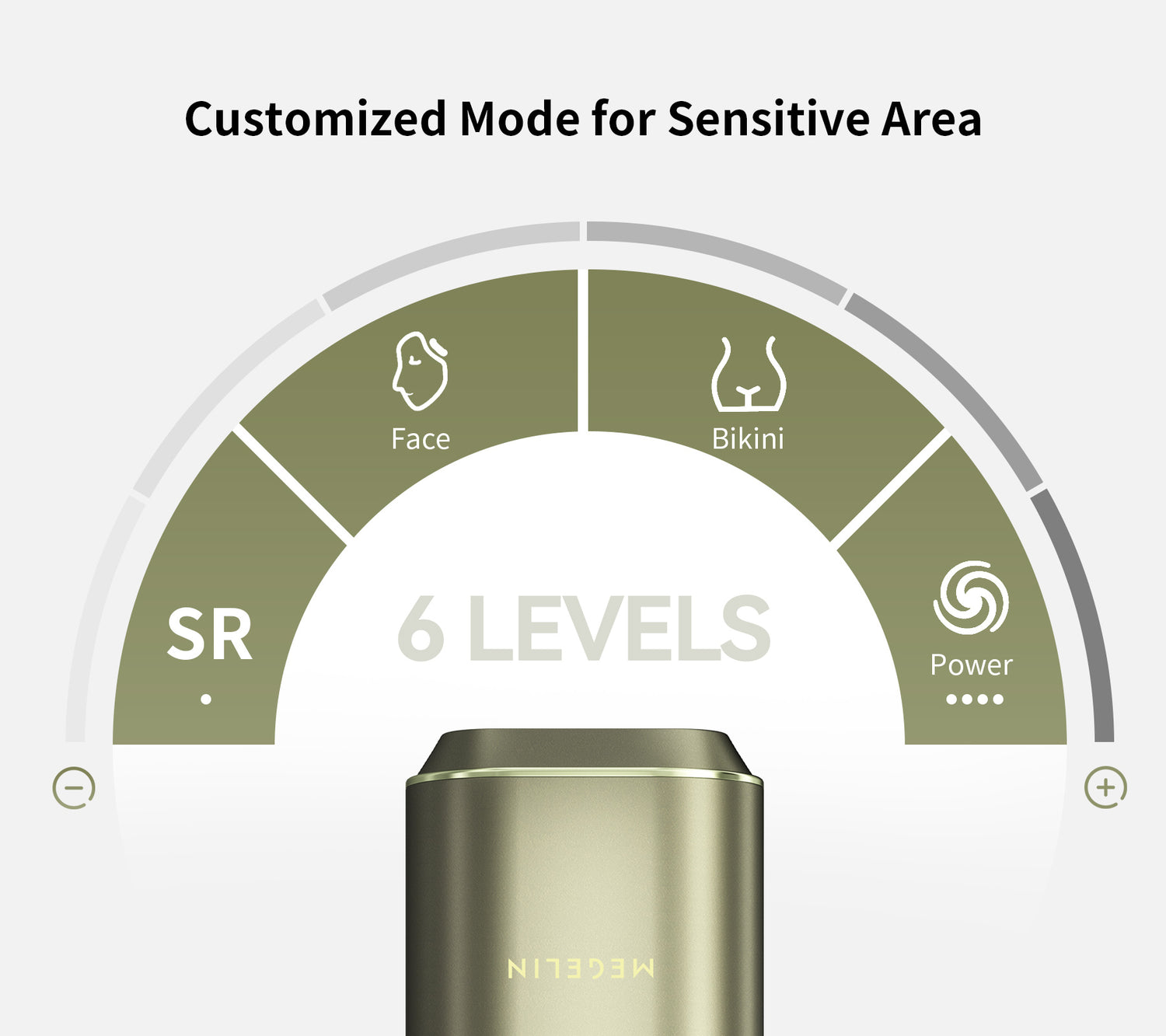 Sensitive Area Hair Removal Care
Megelin M1 has developed two additional modes specifically designed for sensitive area hair removal, along with 1-6 levels of energy intensity, ensuring effective and precise hair removal without causing any damage to the skin.
Post Hair Removal Care Solution
We have designed a skin rejuvenation mode that emits both Far Infrared Rays and red light, effectively stimulating the regeneration of skin collagen. It accelerates the fading of post-hair removal dark spots and can also be used for standalone skin care, resulting in brighter, smoother, and more radiant skin.
Revolutionary Hair Removal Technology
Will Megelin IPL Work For Me?
Step-By-Step Instructions For Use
Real Results of Customer Verification
It's changed my life, in the best possible way, I would give it a million stars if they were available.
I didn't have to spend thousands for laser hair removal. Before using, my self esteem was affected by unwanted hair. I have used as recommended.I am very pleased with results and I've only used this for about 3 weeks now.
The best hair removal devices I have ever used! it works like a champ.
I have done like 4 treatments on my arms and armpits now and I hardly have any hair growing on my armpits and the hair on my arms has become so thin, After using this IPL, it's amazing how soft my arms when I don't shave!
I didn't have to spend thousands for laser hair removal. I have used as recommended. I am very pleased with results and I've only used this for about 3 weeks now.
FAQs
What is the difference between IPL and Laser Hair Removal?

IPL uses a broad spectrum of light with multiple wavelengths, while laser hair removal uses a single focused wavelength of light. This means that IPL can target a wider area of skin in one pulse,Energy, frequency and hair colour are all determining factors in the efficacy of the treatment, while the light source, whether it is a laser or an intense pulsed flash light plays a minor role.
Is the treatment painful?

Compared to laser hair removal, IPL (intense pulsed light) hair removal is typically considered to be a safer and less painful option. The reason for this is that IPL employs a bulb that emits light across multiple wavelengths, as opposed to a laser that uses only a single wavelength. During IPL treatment, you may experience a mild tingling sensation in sensitive areas, but it should not be painful.
Are there any side effects?

The main benefit of IPL hair removal technology is that it has no adverse effects on the skin or body.
Is the hair loss permanent?

With our device, following the recommended treatment plan, you should expect to see around 96% reduction in hair growth. The device works by targeting hair follicles that are in the 'anagen' growth phase. Keep in mind that hairs not in this phase during treatment may still grow back. To prevent this, we suggest doing maintenance treatments every 1-2 months as needed.
Does IPL work on all skin types and hair colors?

IPL treatment may not be suitable for everyone due to differences in hair and skin types. Typically, IPL and laser hair removal are not effective on blonde or red hair, as well as very dark skin. For more information, please refer to our helpful chart.