Megelin X Sapphire IPL Hair Removal Handset
Regular price

$429.00

Sale price

$219.00
Results in 4 Weeks or Less

Sapphire Ice-Cooling Technology. Pain-free

Facial and Full-Body Permanent Treatment

Quick 10-Min Treatments

FDA-Approved (Safe & Effective)

90-Day Money Back Guarantee
Safe and Comfortable

Our IPL hair removal device features cutting-edge sapphire cooling technology that can lower the temperature of the output window to 41°F. Extra-large ice contact area made from full-screen ultra-thin sapphire, it delivers a truly safe and painless hair removal experience.
Specifications

Functions

Intense Pulsed Light (IPL),590-1200nm

In the Box

MEGELIN X IPL Handset*1

Goggles*1

Razor*1

Plug*1

User Manual*1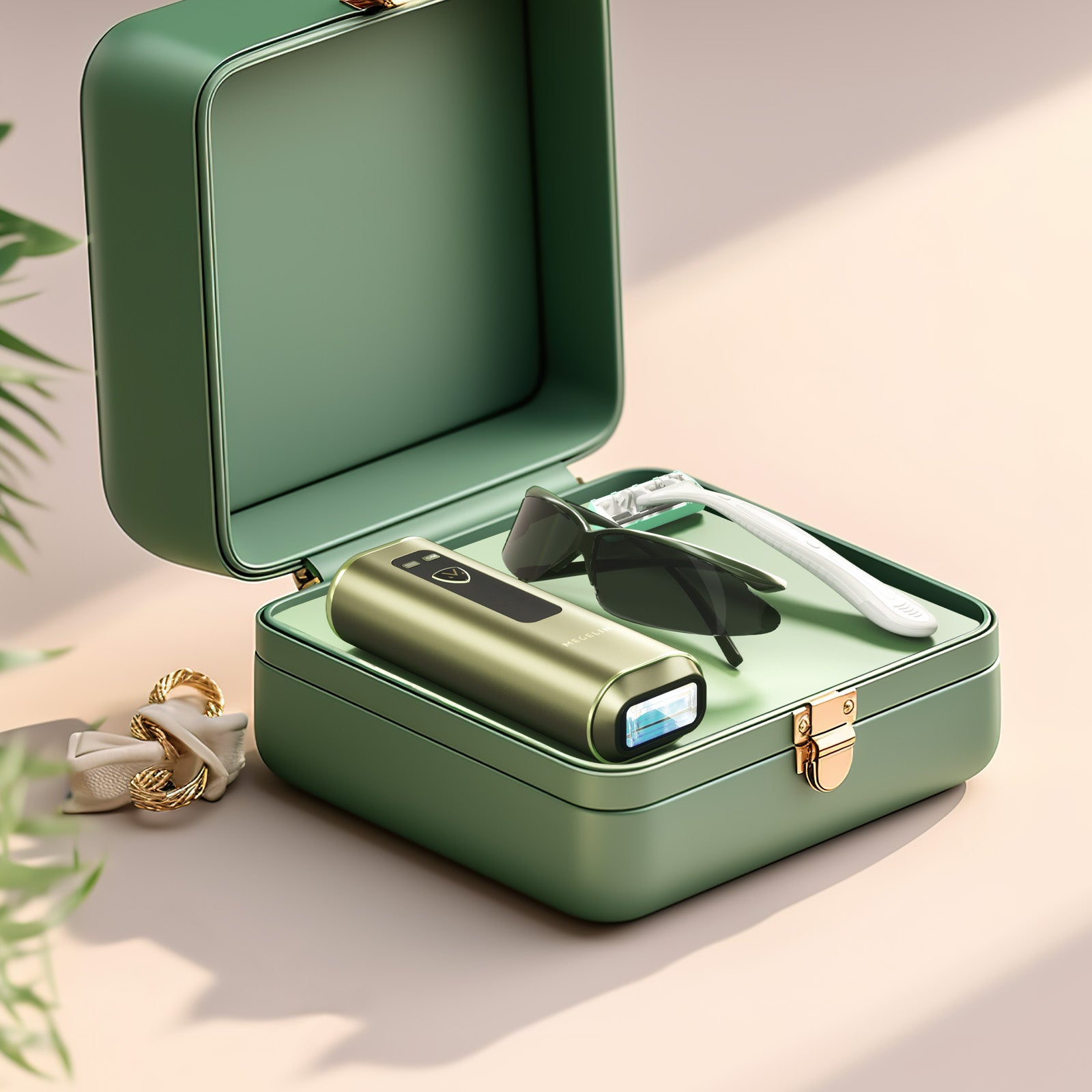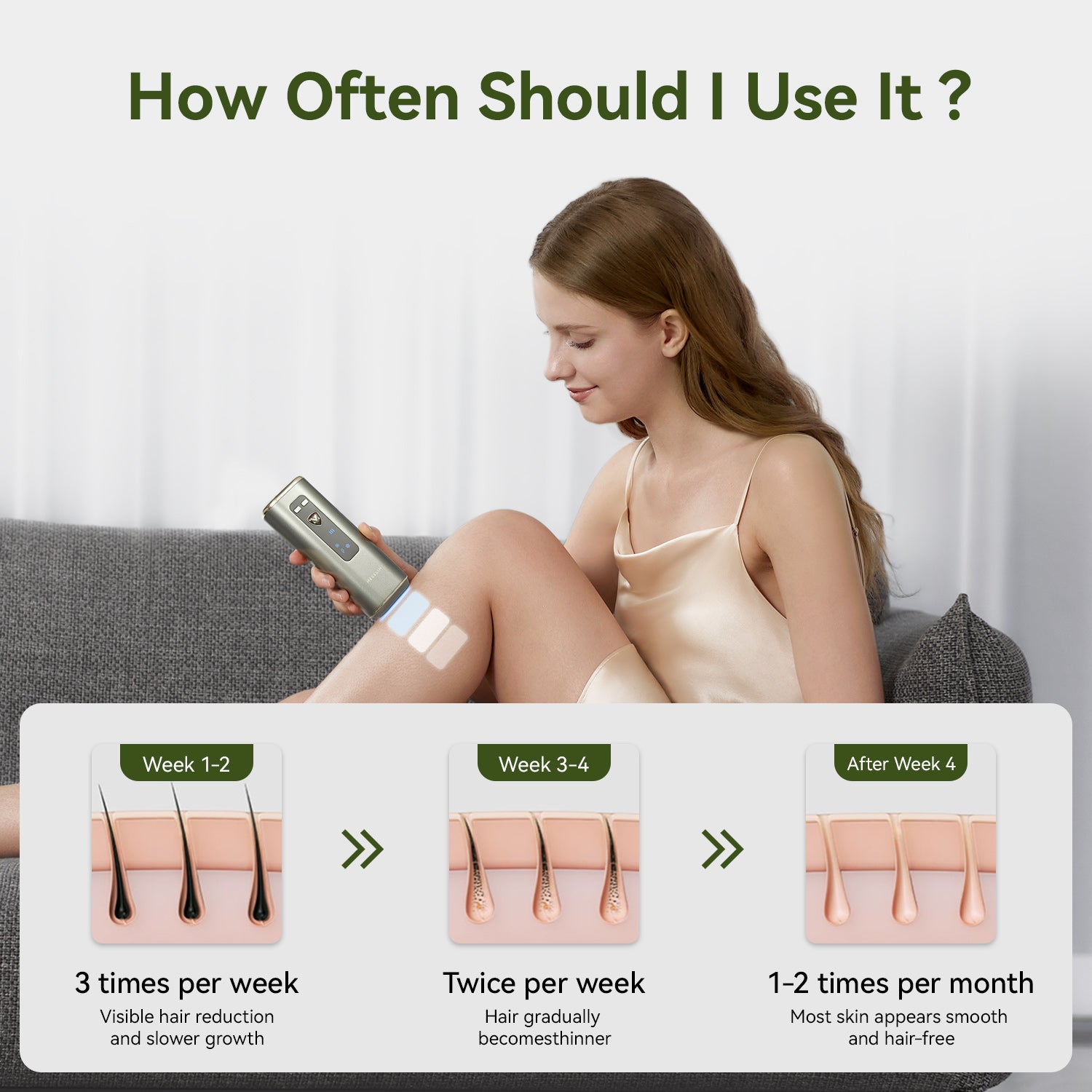 4 Weeks Body Test Results
Powerful Hair Removal with 21J High Energy
Powerful 21J energy for removing dense and fast-growing hair. Additionally, personalized hair removal customization for sensitive areas. With 1-6 energy intensity levels, ensure effective and precise hair removal without damaging the skin.
Hair Removal From the Root
590-1200nm wavelength, salon-grade precision band, high penetration, direct action on the hair follicle, no wasted light energy, one session is equivalent to two sessions with other devices.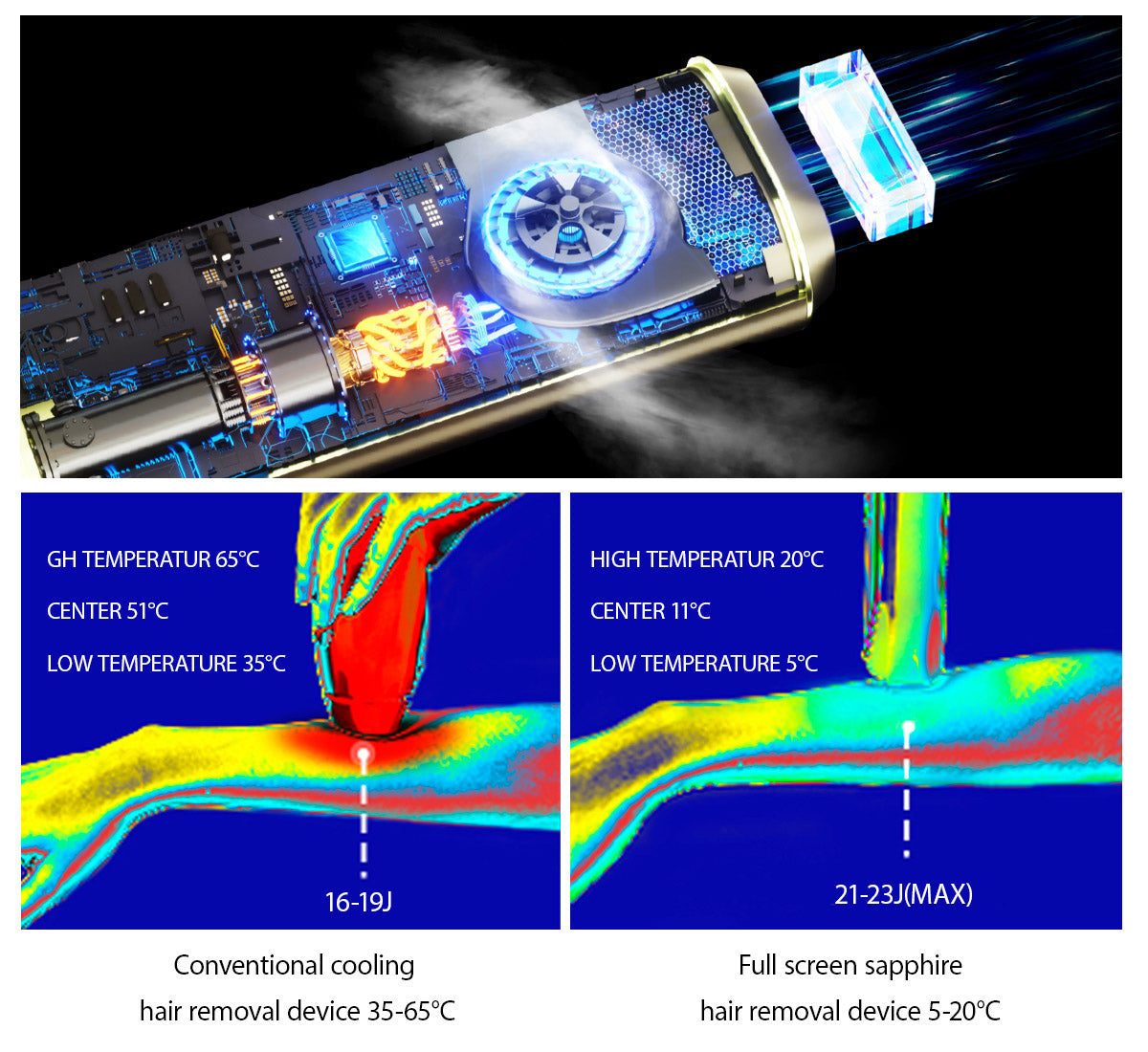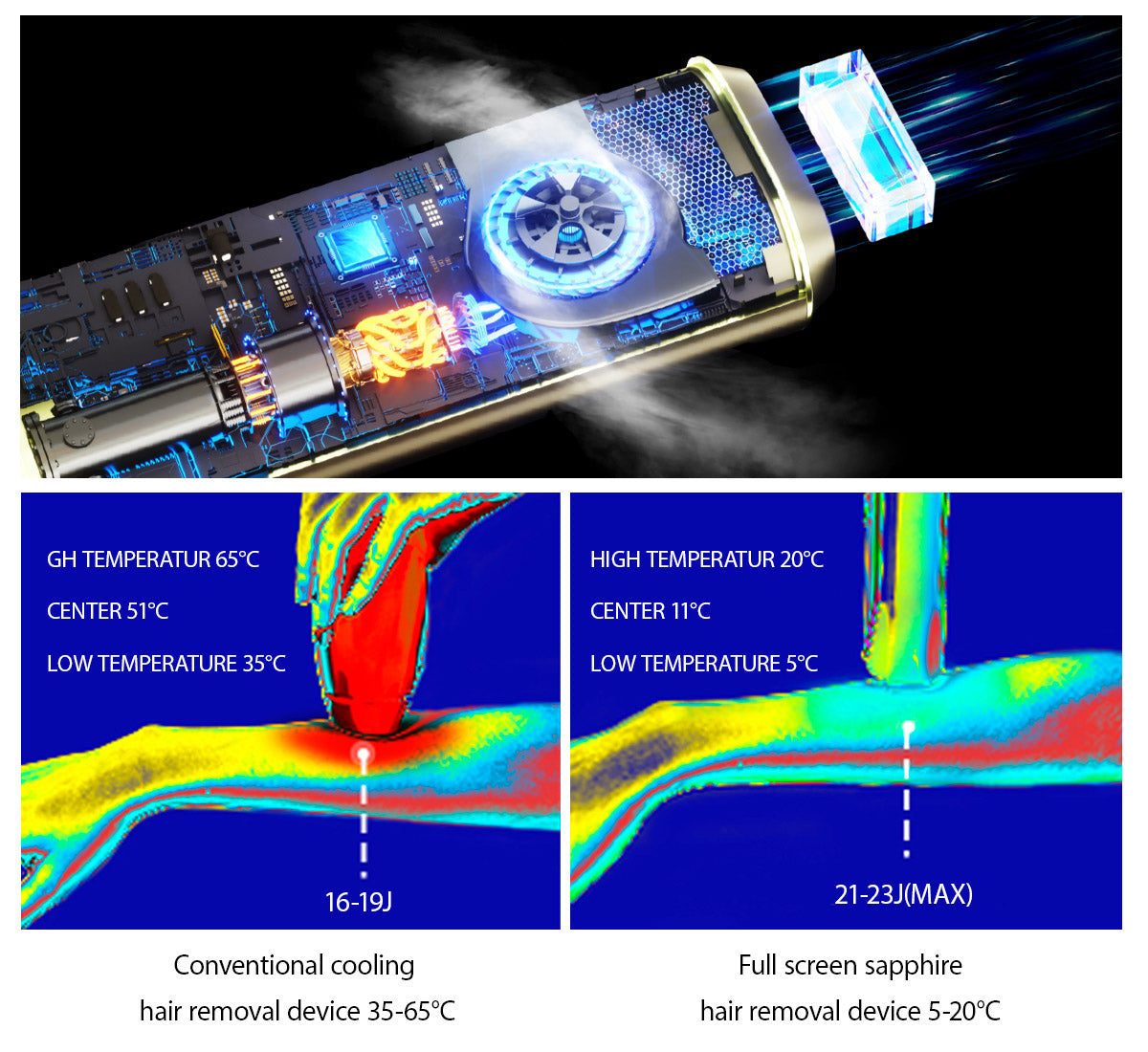 Sapphire Ice-Cooling Pain-Free Technology
Sapphire cooling and advanced heat dissipation technology keep the output window temperature at 41°F (5°C), ensuring pain-free hair removal. With a cooling area(7.4cm²) twice as large as other devices, it eliminates burning sensation and offers a refreshing experience.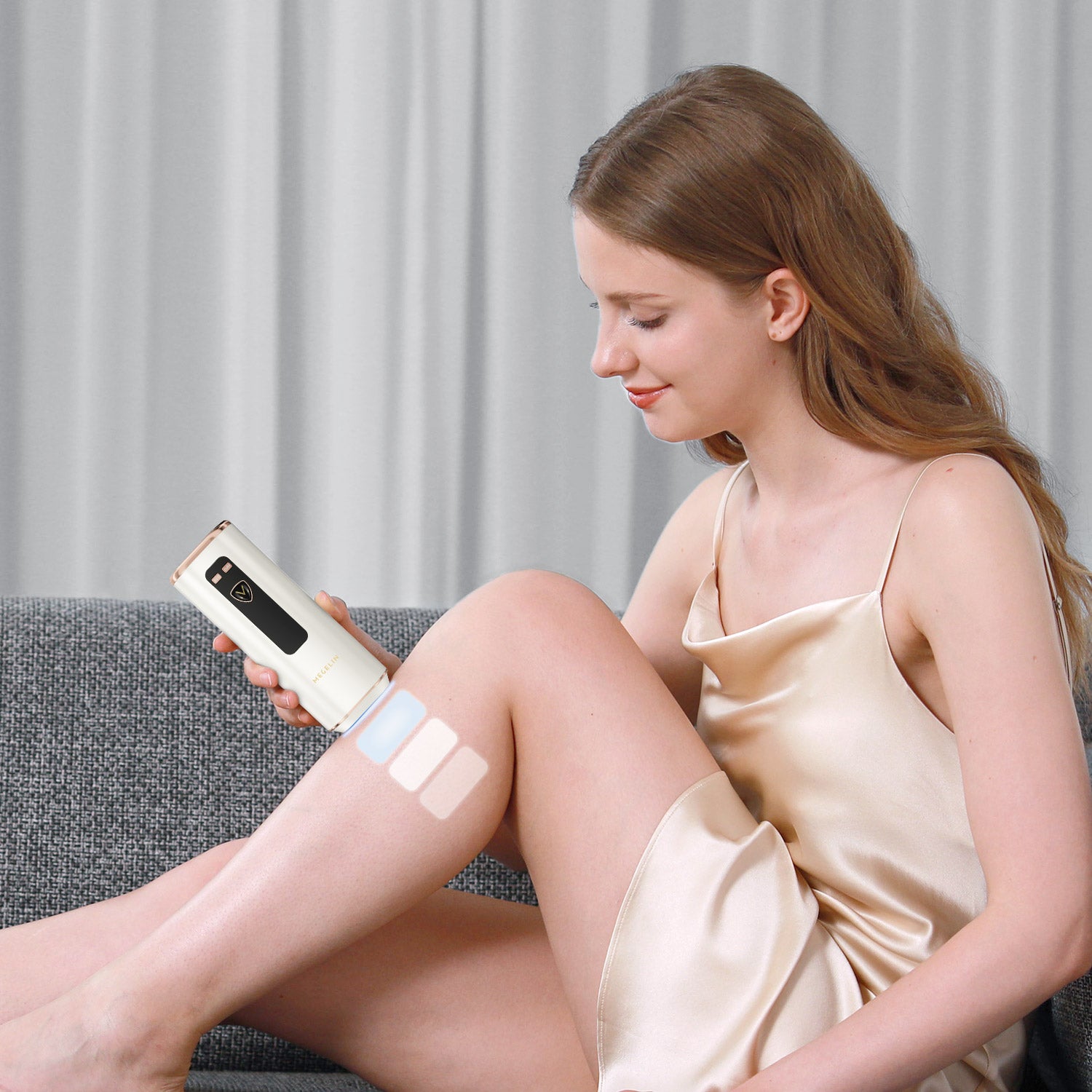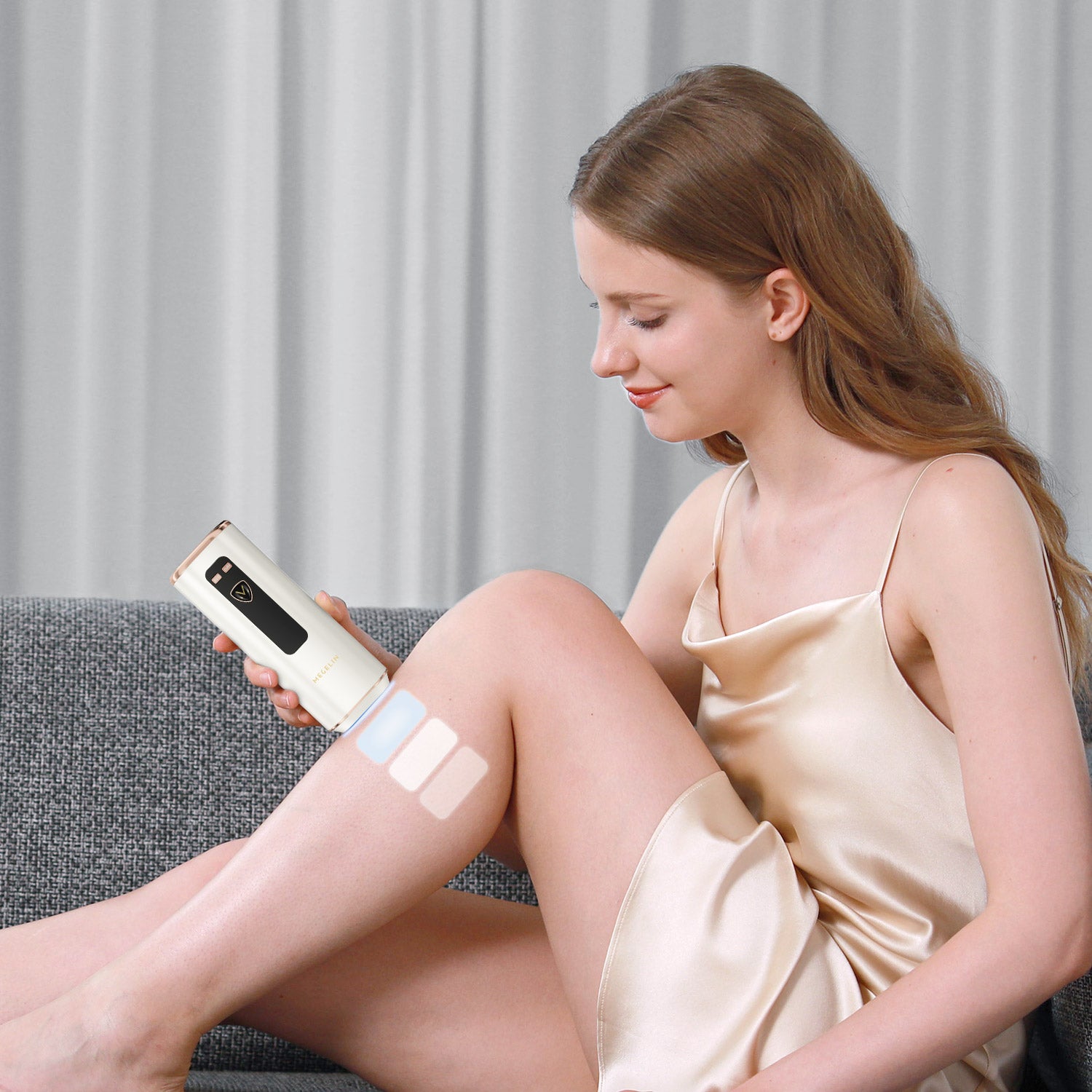 Free Your Thumb, For Swift Hair Removal
End the hassle of continuous button pressing, auto glide mode can deliver flashes in every 0.8 seconds. Get a quick full-body hair removal session in as little as 10 minutes.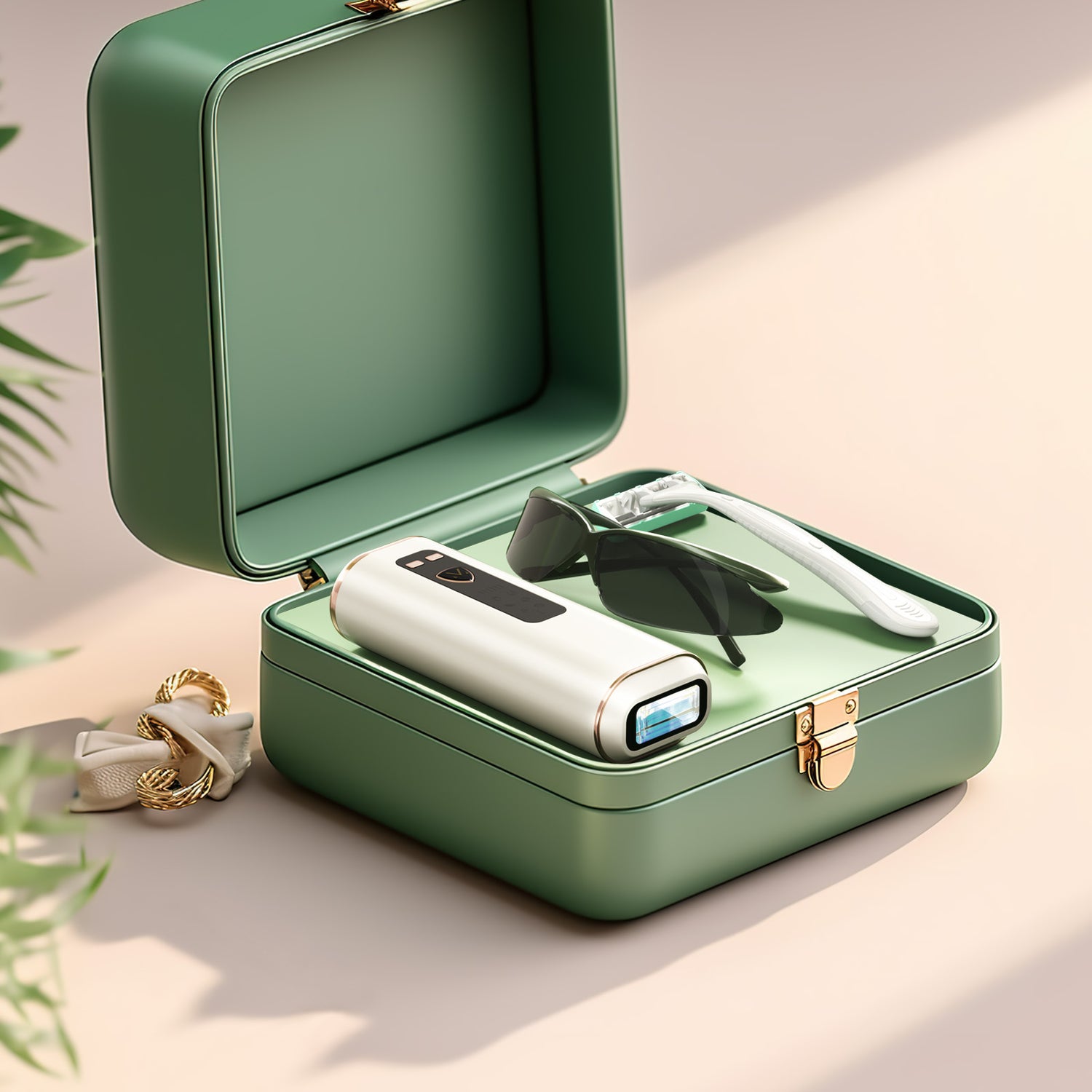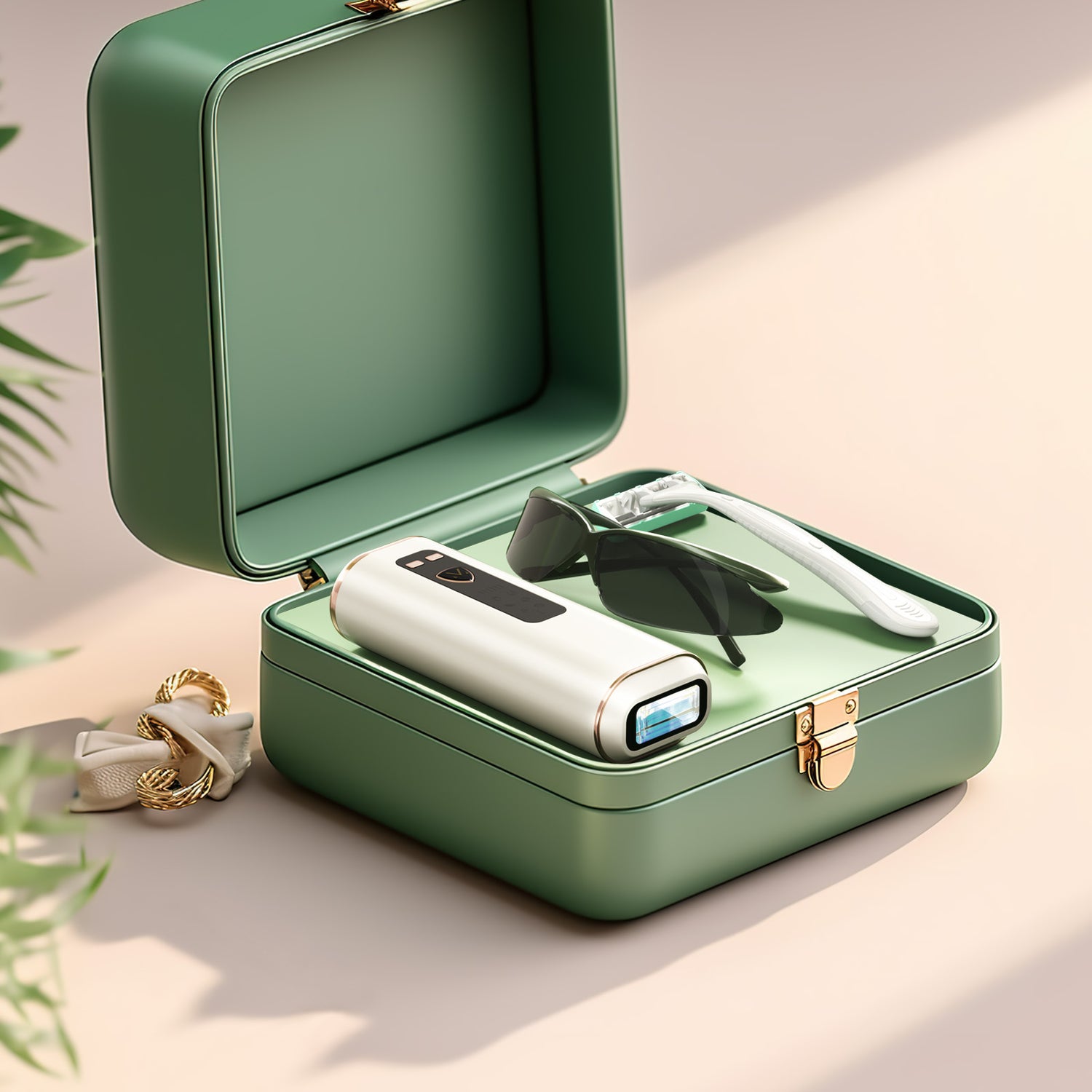 Portable and Compact
Our hair removal device weighs only 256 grams, making it lightweight and perfect for on-the-go use. It is compact and portable, making it convenient to carry even when traveling.
Revolutionary Hair Removal Technology
Will Megelin IPL Work For Me?
FAQs
How Does IPL Differ From Laser Hair Removal?

IPL, or Intense Pulsed Light, utilizes a diverse spectrum of light encompassing numerous wavelengths, as opposed to laser hair removal, which concentrates on a single, unchanging wavelength of light. The consequence of this distinction is that IPL has the capacity to impact a more extensive skin region within a single pulse. The treatment's effectiveness hinges on elements such as energy, frequency, and the coloration of the hair, whereas the source of the light - whether derived from a laser or an intense pulsed flash light - assumes a lesser degree of importance.
Does The Treatment Invoke Discomfort?

Contrasting with laser hair eradication, IPL (Intense Pulsed Light) hair extraction is typically perceived as a more benign and less discomfort-inducing alternative. This is attributable to IPL's utilization of a bulb, radiating light across a multitude of wavelengths, instead of a laser that relies solely on a singular wavelength. Amid an IPL session, you might encounter a slight, transient tingling in the more sensitive zones, however, this should not culminate in any considerable pain.

Moreover, it's worth noting that IPL technology has been refined over the years to ensure an increasingly pleasant experience for users. Advanced devices incorporate cooling mechanisms and adjustable energy levels, allowing you to customize the treatment to your personal comfort thresholds. This capacity for customization typically results in a significantly more agreeable and relaxed hair removal experience compared to other more conventional methods.

Importantly, any minor discomfort experienced during IPL treatment is generally short-lived. Post-treatment, you're likely to feel a sense of relief and satisfaction, especially when noticing the smooth, hair-free skin results. Consequently, any fleeting discomfort is often overshadowed by the appealing long-term benefits of IPL treatment.

Lastly, for those particularly concerned about potential discomfort, topical anesthetic creams can be used prior to the treatment. These can help to numb the skin slightly, making the treatment process even more comfortable. However, it's always recommended to consult with a professional or physician before starting any new treatment, to ensure that it's the right option for your specific needs and skin type.
Does it Present Any Adverse Repercussions?

One of the key advantages of IPL hair extraction technology is its remarkable safety profile, devoid of negative impacts on the skin or body. It's this attribute that sets IPL apart, establishing it as a go-to choice for those seeking a reliable and non-invasive hair removal method.
Does The Hair Loss Endure Permanently?

Utilizing our device and adhering to the proposed regimen, you can anticipate achieving approximately a 96% diminution in hair proliferation. The mechanism of the device revolves around identifying hair follicles during their 'anagen', or active growth, phase. However, it's important to remember that hairs not in this stage during the treatment may exhibit regrowth. To counteract this, we recommend carrying out upkeep treatments on a 1-2 month basis, or as necessitated by your unique hair growth patterns.
Is IPL Effective on All Skin Tones and Hair Colors?

IPL procedures might not be universally compatible, owing to the variance in skin types and hair colors. Conventionally, IPL and laser hair extraction processes fail to deliver substantial results on blonde or red hair, and on exceptionally dark skin. For a more comprehensive understanding and to determine whether IPL is an appropriate choice for you, please consult our informative chart.
How to get rid of strawberry legs?

Strawberry legs refer to darkened pores or small bumps on the legs that resemble the skin of a strawberry. Causes include clogged pores, dry skin, and hair growth. Laser hair removal can help to banish strawberry legs, reducing hair growth and making skin smoother over time. At Megelin, we offer advanced laser technology to help you say goodbye to strawberry legs.
What is an Epilator and How to Use it on Face?

An epilator is a handheld device that removes hair by mechanically grasping multiple hairs simultaneously and pulling them out. Using an epilator on the face can seem intimidating due to the sensitive nature of facial skin. Start by choosing a high-quality epilator like Megelin's, designed for the face. Always clean your face and the device before starting. Hold the device at a 90-degree angle to your skin, and move it against the direction of hair growth. Remember to moisturize afterward to soothe the skin.
Real Results of Customer Verification
I didn't have to spend thousands for laser hair removal. Before using, my self esteem was affected by unwanted hair. I have used as recommended.I am very pleased with results and I've only used this for about 3 weeks now.
It's changed my life, in the best possible way
I'd hide my upper lip before, it was always embarrassing from razor burn or plucking, this machine is with every penny and I love myself again!!
I would give it a million stars if they were available.
I loooove it, 100% pain free, so effective, easy to use.
The best hair removal devices I have ever used! it works like a champ.
I have done like 4 treatments on my arms and armpits now and I hardly have any hair growing on my armpits and the hair on my arms has become so thin, After using this IPL, it's amazing how soft my arms when I don't shave!