Megelin Red and Blue Light Therapy Handheld Device
Regular price

$398.00

Sale price

$179.00
24 LED High Power Red Light Therapy Device

4 Wavelength Combinations (Red: 630&850 nm, Blue: 470&940 nm)

Facial Skin Care and Deep Body Pain Relief

Easy to Operate and Carry
Benefits

Led light therapy devices emit red and blue light designed to reduce pain, relax muscles/joints, and increase blood circulation.

Wrinkle Reduction and Skin Rejuvenation
Improving Large Pores, Restoring Skin Health
Reduces active acne, blemishes and inflammation
Stimulates Cellular Energy
Reduces Joint Pain and Inflammation
Relax Sore Muscles/Joints
Increase Blood Flow
Specifications

Functions

630nm (Red light), 850nm (infrared light), 470nm(blue light), 940nm(infrared light)

In the Box

Megelin Red and Blue Light Therapy Handheld Device*1

Charging Cable*1

User Manual*1

Storage Bag*1
4 Wavelength Combinations
A combination of different Wavelength can meet different physical therapy needs, 630nm&850nm promote skin metabolism, accelerate the production of collagen, relieve joint and muscle pain, 470nm&940nm can be used for skin surface treatment, repair damaged skin.
Easy to Use on Face and Body
You can use it easily anytime, anywhere on your knees, shoulders, neck, wrists, fingers, waist, ankles, face, or any other body part. Additionally, it supports a 15-minute timer.
Higher Power for Better Effectiveness
Superior optical power density value, reaching up to 2000W/m² at 0-1 inch. Accelerates physical recovery, alleviates sports injuries, and offers enhanced effectiveness for chronic pain relief.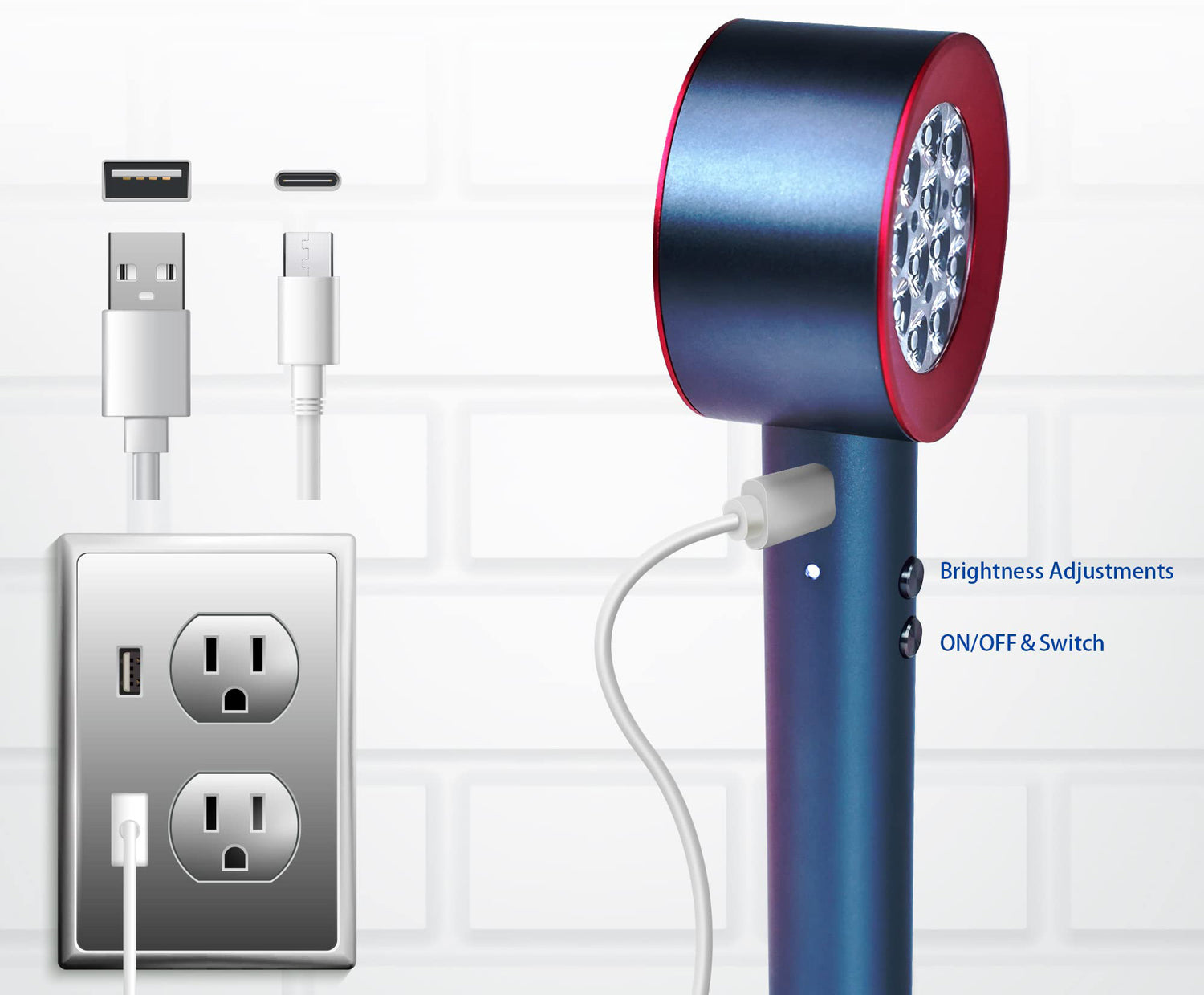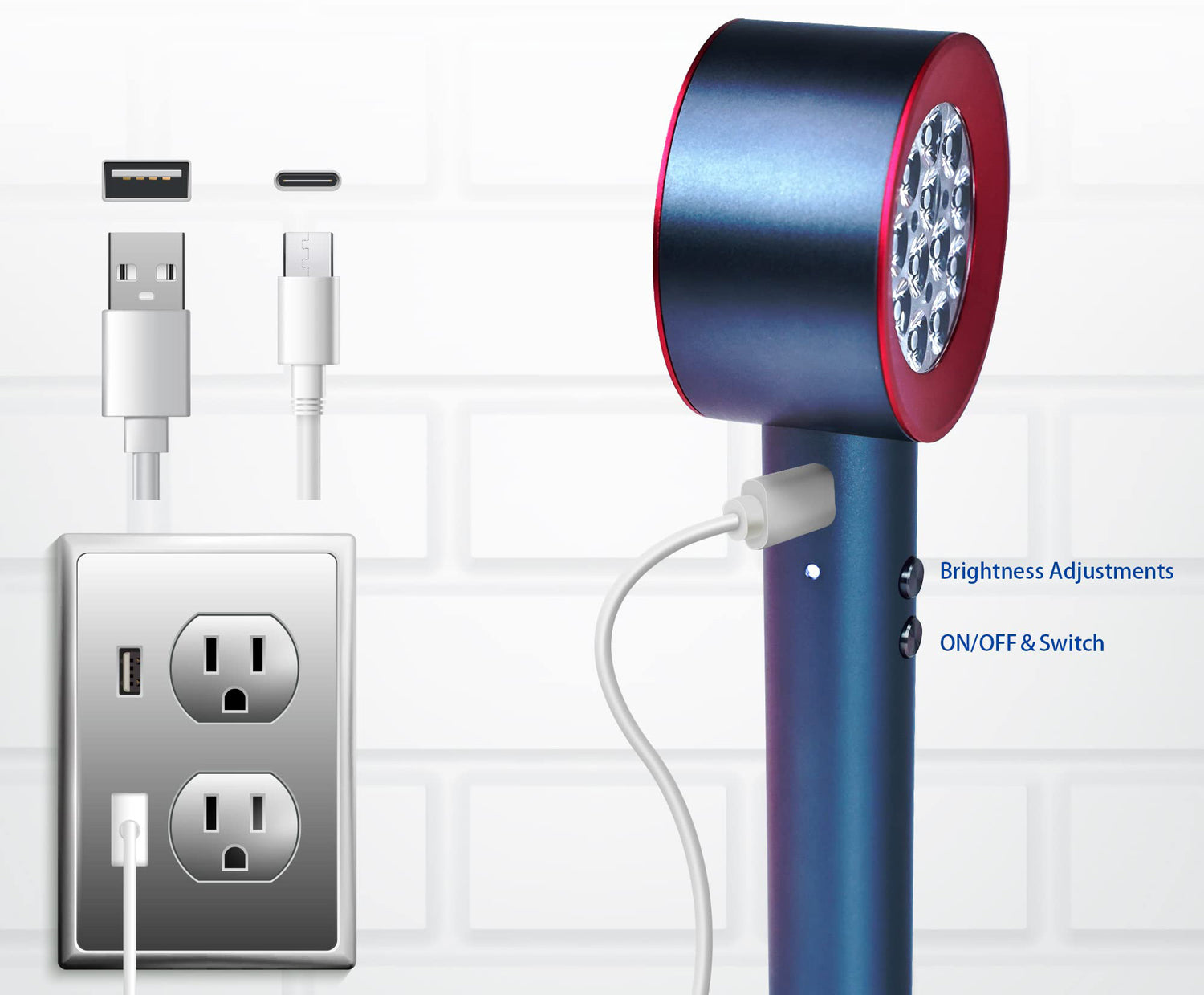 Rechargeable & Portable
Effortlessly switch modes with a simple control button. Compact, rechargeable, and highly portable, providing up to 3 hours of continuous use.

FAQs
What is the optimal time for using the device?

It is recommended to use the device for 15 minutes each time.
What type of pain is this device helpful for?

This device is designed for treating chronic pain, accelerating bodily healing, and alleviating pain caused by injuries and surgeries
There isn't directions on how to switch to a specific wavelength. How do you switch to (ie) 940 specifically?

There are two wavelengths on each side, with two for the red side and two for the blue side. The wavelengths are fixed and do not require adjustment. Switching modes allows for immediate use.
Is it easy to carry this device?

Yes, the small-sized rechargeable red light therapy device is easy to carry anywhere.
How often should it be used?

For daily care, use on each area once a day or every other day, for 15 minutes each time. Adjust the frequency based on your skin's condition.